After a few days of very sluggish process on the sculpts due to university taking its toll, I´ve finally finished my very secret project and can proudly unveil what it was about:
I´ve done these because of the multitude of reference photos available in the IDFs photo stream on flickr. And because no-one I´m aware of had them available in their modern gear with the TAR-Assault Rifle and Negev SAW when I started this. So this was one of the few opportunities to create something unique with many reference pics. You can see that the mostly white figures in front are older and the cork-mounted figs are recent additions to the projects, overall better looking and more refined.
Well, in the meantime there has been a release of 20mm Wartime IDF figures with exactly the same kit: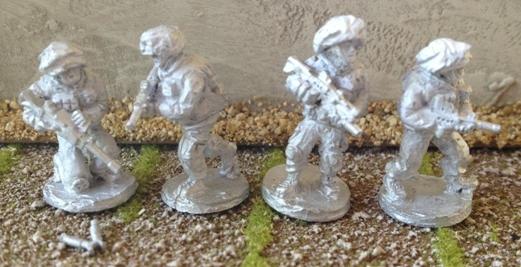 Courtesy of Wartime Miniatures
So, my original plan didn´t work out, there´s still figures you can compare my sculpts to - and nothing quite so unique as I figures. But well, that´s the way it is ;)
Here´s the backside:
I´m a bit dissatisfied with the grey putty as it doesn´t turn out very well on pics. I´m probably going for a mix of silver-grey and white as in the one vest above, which seems to be much better for contrast.
M16 Guerillas are still WIP, I´ll be posting updates as I progress!